More and more people are intrigued by our social, unbiased interview robot Tengai. And we're getting a bunch of questions relating to it. So, in this blog post, Tengai's Chief Robot Trainer, Sinisa Strbac, reveals the answers to the most frequently asked questions.
An unbiased interview robot – is it possible? How do you ensure that the robot's information gathering is unbiased?
"Tengai only records candidates' speech, which it converts into text in real-time. The interview robot takes no notice of other variables. Such as a person's accent or the pitch of their voice, their looks or gender. Furthermore, we don't let Tengai know anything about the candidates. The only thing we have access to are our candidates' names, and e-mail addresses. And we don't use this information for the purpose of identifying specific candidates. That way we keep biases out of the interview. But we do plenty more – maybe read what our Chief Scientist discusses the matter?"
Some time ago, Tengai caught the attention of a US podcaster and writer, Joel Cheesman from the Chad & Cheese podcast. He described Tengai as creepy. Do candidates who have met Tengai feel the same way?
"I wouldn't really say so, no. We've conducted some 80 interviews to date, and the vast majority of candidates describe Tengai as warm, friendly and easy going. Most are surprised by how 'natural' the meeting feels – despite talking to a robot. Perhaps it's the unusual situation: to sit down with and engage in an intelligent dialog with a robot. You might even feel that the robot is a little too human because it's so adept at social codes. It can feel pretty surreal."
What and why do you teach the robot? Why do we need it? And what is the human recruiter's role in this?
"The robot itself, Furhat, has been developed for many years by the company Furhat Robotics, including their OS. What we are doing is developing a software HR-tech application built together with Furhat on their existing OS. So what we teach it is how to conduct situation- and skill-based interviews as close as possible to a human recruiter. This includes anything we do as a recruiter. Like how we "Hum", nod our heads and ask follow-up questions.
This project started in August 2018. We then established a question tree and all the social skills associated with it. In recent months, we've adjusted the dialogue in Swedish that the robot is capable of, so it feels as natural as possible."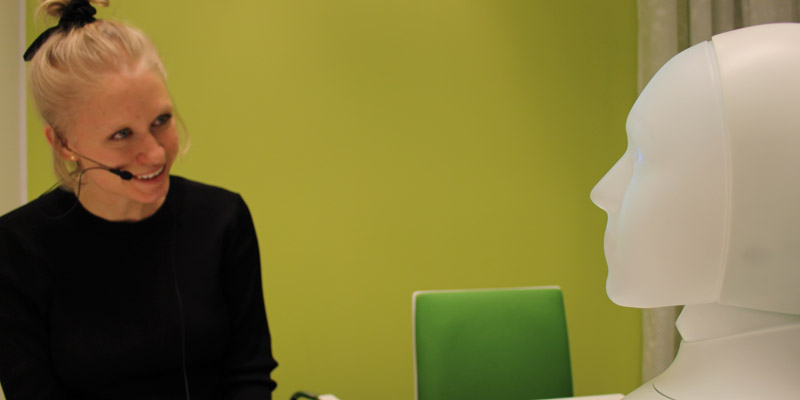 This is a new way to recruit. How has that affected you as recruitment professionals?
"We've really had to look at ourselves to understand how we conduct interviews. Which movements, facial expressions, and words we use to confirm talent as humans and as candidates. We've gone to great lengths to analyze the questions that the robot should ask. It has been very important that the questions are as clear and as concrete as possible. Tengai struggles with ambiguity, so the less vagueness there is in a talent's answer, the better Tengai is to evaluate and validate the skill sets.
You have said that it would be good for all recruiters to partake in this work. Why?
"All recruiters work old-school. And in a world where tech development goes faster by the day, we need to question old-school skills. It's useful to evaluate yourself, the way you work on a daily basis and your interview technique. Even if we tend to think that we do a great job for our clients and candidates, there are always things that can be better. You just need to dare to challenge yourself. We need lifelong learnings even in the recruitment industry.
"As a human being, you need to take a step outside yourself and imagine yourself as a robot that hasn't been gathering experiences since childhood.""
"As we've taught Tengai social codes, we've become aware of how we behave in similar situations with people who we know and don't know."
What happens when the robot doesn't obtain an answer? Does it understand?
"If that happens, the robot informs the candidate, asks follow-up questions and subsequently attempts to continue the conversation and the interview."
Are there only yes and no answers? How advanced is Tengai's communication?
"There's a lot of focus on providing and gathering information in recruitment. And this also applies to Tengai. It shares information in a dialogue form about the interview, how it will be conducted, and then gathers the answers. As it collects information, it understands what the candidate is saying, regardless of the number of words and sentences used. So yes, it can handle open questions and open-ended answers."
How does a series of questions asked by Tengai differ from one asked by a human?
"There's no capacity for extra words or narrative that isn't directly linked to a question that Tengai has asked. Tengai asks all questions in exactly the same way, in the same tone and typically in the same order. That way it is a more fair and objective interview. A hiring manager would deviate from this formula, adjusting to candidates' responses and thereby extracting more from them which makes the process unfair. Additionally, as a human, they are also influenced and affected by unconscious bias about the candidates and subject to their own preconceptions and subjective interpretations. With Tengai this is avoided."
"The great advantage is that we're able to get more candidates involved in the process."
What is the greatest advantage of Tengai?
"In addition to getting a more objective and structured process, we avoid the unconscious bias we all have. By doing this in the early selection, we shift the subjectivity further along the process (where it is less damaging). Additionally, we're able to invite more candidates to participate in the recruitment processes' early stages, allowing for greater diversity by ensuring a better and broader selection of talents.
What we can risk losing is the detail and personalization that can give a complete picture of a candidate's suitability for a position. On the other hand, Tengai is designed to be used at the beginning of a selection process, where it's advantageous to be objective and skill-focused to find the competencies needed for the job. In-depth assessment, by an experienced recruiter trained in unbiased recruitment, of a candidate's experience, potential and motivation is conducted with the talent who progress further in the process. This allows for more, and deeper human connection, with the final candidates who have all been selected with an unbiased process."