Charlotte Ulvros, CMXO, TNG: "No one has ever done this before"
It is not surprising that the development of the world's first unbiased interview robot has received a lot of media attention. While the TNG team and Furhat Robotics programmed Tengai to conduct interviews, the AI-robot was featured in both Swedish and international media. Charlotte Ulvros, Chief Experience Officer at TNG, comments on the media coverage.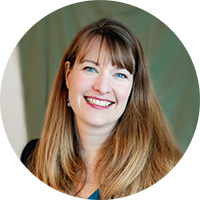 It is very exciting to be collaborating with Furhat Robotics on the world's first unbiased interview robot. Partially because no one has ever done it before. But also because it has given us the opportunity to really utilize the 15 years of the unbiased and scientific recruitment-experience we have developed at TNG.
It is especially exciting to see the massive interest in Tengai. Since TNG decided on not using an extern marketing consultant but have written press releases and gained media attention by contacting a few journalists. But it's not surprising to see how quickly media picked up the news since Tengai is such a unique and innovative project!
"Creating Tengai will push us to the next level of unbiased recruitment, which totally aligns with TNG's vision to establish a sustainable job market where applicants can't be rejected based on their name, age, sex, appearance or background."
Educating and Informing is Important
Looking through the comment sections it becomes clear that AI and Tengai are trending topics in international news. A lot of people are wondering how the robot will work and how she will be used during the recruitment process. There are also questions if Tengai can be completely unbiased and what role human recruiters will have while working alongside the robot.
It is therefore especially important to explain, inform and educate the HR industry on how AI can be integrated into the recruitment process. It is also necessary to clarify that Tengai is an extension of TNG's already established unbiased recruitment practice. Which has been developed for several years and is based on scientific research and experience.
Tengai Featured in Media – A Selection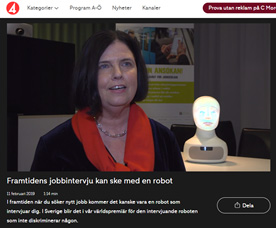 TV4: Framtidens jobbintervju kan ske med en robot
TV4 came to TNG's HQ in Stockholm to interview our CEO Åsa Edma Källströmer and to chat with Tengai.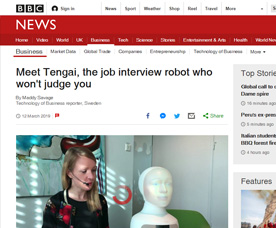 BBC News: Meet Tengai, the job interview robot who won't judge you
BBC reporter Maddy Savage visited TNG's Stockholm office. She met Tengai and wrote an article that received global attention.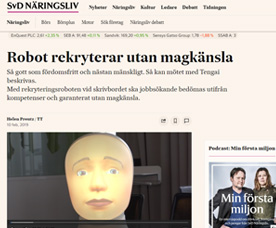 SvD: Robot rekryterar utan magkänsla
Tengai has received a lot of media coverage here in Sweden. And this is article is from one of the most established news magazines.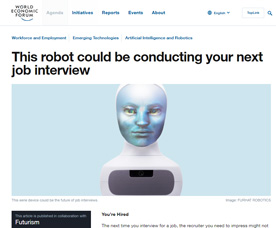 World Economic Forum: This robot could be conducting your next job interview
An honor to be featured in the World Economic Forum and their Linkedin post has over 240 000 views, 5100 likes, and almost 700 comments!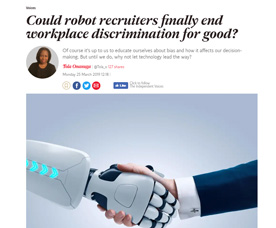 The Independent: Could robot recruiters finally end workplace discrimination for good?
Reporter Tola Onanuga at The Independent explains why she wants to see robots during the interview process; "in every office and recruitment agency in Britain."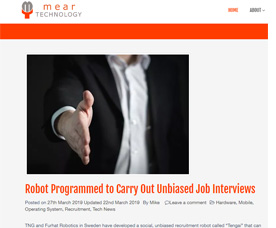 Mear Technology: Robot Programmed to Carry Out Unbiased Job Interviews
An article on the British website Mear Technology explains how Tengai will benefit and simplify recruitment.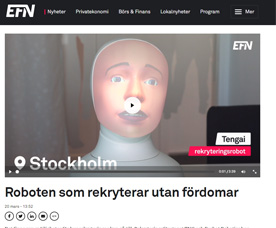 EFNTV: Roboten som rekryterar utan fördomar
A 13-minute segment on EFN, a Swedish networked focused on finances. Here Tengai is featured together with TNG's CEO Elin Öberg Mårtenzon and Robot Trainer Sinisa Strbac.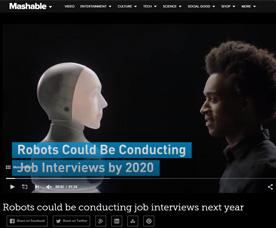 Mashable: Robots could be conducting job interviews next year
Even Mashable mentioned Tengai in their recruitment feature.
In other places around the world: 
Spain: Tengai es un robot diseñado para hacer entrevistas de trabajo y evitar los prejuicios
Brasil: Renan Batista Silva mostra robô que pode te entrevistar para seu próximo emprego
Denmark: Mød Tengai, den fordomsfri robot fra HR
France: Suède : un robot fait passer des entretiens d'embauche
Now we are focusing all our attention on Tengai's launch in Stockholm, May 2019. And after that Tengai is going on her world tour so follow on social media to keep up!